The Wurlitzer 2000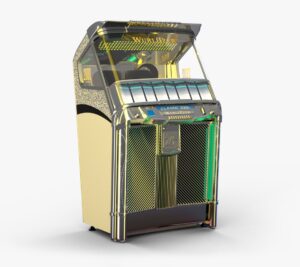 The Wurlitzer 2000 is a classic jukebox that was manufactured by Wurlitzer in 1956 to commemorate the company's 100th anniversary. It is a highly collectible model, and is considered by many to be one of the most attractive jukeboxes ever made.
The 2000 has a striking Art Deco design, with a sleek black cabinet and a large glass dome that covers the record selection area. The dome is illuminated from the inside, creating a dramatic effect. The 2000 also features a distinctive "Super-Vu" window that allows you to see the record labels without having to open the dome.
In terms of sound quality, the 2000 is equipped with the Dynatone Sound System, which was introduced in the 1955 Wurlitzer 1900. This system features three 12-inch bass woofers and twin 4-inch treble tweeters, which provide a rich and powerful sound.
The 2000 has a capacity for 100 45rpm records, which gives you a choice of up to 200 songs. The records are selected using a mechanical selector panel, which is located on the front of the cabinet. The 2000 also features a coin mechanism, so you can pay to play your favorite songs.
The Wurlitzer 2000 is a highly sought-after jukebox, and is in high demand among collectors. If you are lucky enough to find one, be prepared to pay a premium price. However, if you are looking for a classic jukebox that is both beautiful and sounds great, the 2000 is an excellent choice.
Here are some additional details about the Wurlitzer 2000:
Dimensions: 142 x 84 x 71 cm (56 x 33 x 28 inches)
Weight: 145 kg (320 pounds)
Record capacity: 100 45rpm records
Sound system: Dynatone Sound System
Selector panel: Mechanical
Coin mechanism: Yes
Production run: 1956